Okay, your Facebook Photos are looking a bit stale... time for a colourful party... but what to do for a theme? One word: Bollywood! What the bleep is Bollywood, you ask? It's the Indian equivalent of Hollywood as the movie capital of the U.S. - only Bollywood produces about $1billion more in sales every year! So why haven't you seen any of them? Well, they are predominantly in Hindi. Bollywood films are almost always musicals, and contain loads of dancing and singing... and really bright costumes with heaps of over the top melodrama. Bring it on! Here's how:
INVITES:
Check out PartyInvitations.com.au for costume invitations
like this one
. Or make your own with a little help from the Internet: Here are a few
simple tips to follow
.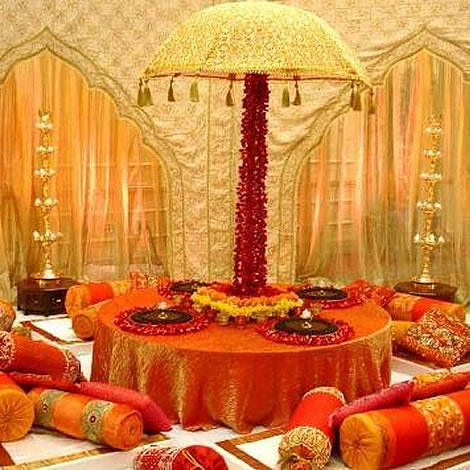 DECOR:
We're talking colour here people! Loads of it. Not sure what we're talking about? Check out
these photos
- not much black and white there, hey! How can you get your joint looking like the set of a Bollywood movie? A few hints:
- Sheer, patterned, or bright coloured material. Drape it over your blinds, sofas, lamp shades, even walls. Think pastels or deep earth tones.
- Accessorize: candles, frame postcards with Indian images on them, pick up some
Bollywood movie posters
.
- Pillows: use lots of pillows and matts on the floor to create conversation areas.
COSTUMES:
The traditional Indian garbs for men and women in bright colours will get you the most bang for your buck. Check out the selection of Bollywood costumes for men and women at
CostumeBox.com.au
- loads of inspiration here:
Men's Costumes:
Women's Costumes:
Accessories:
FOOD & DRINKS:
Don't fret, if cooking freaks you out, there are probably a heap of good Indian take-away joints in your neighbourhood. Let them know how many guests you have coming and they should be able to help you plan a menu.
If you fancy yourself a bit of a chef, check out Taste.com.au - they have a full
Indian Cuisine section
on their website, with recipes for appetizers through to full meals.
FUN:
Movies: Play some movies, even if it's just in the background with the sound off. They are colourful and animated, and will add a little zing to any room.
Music: You can easily stream a Bollywood Playlist from a website like: Grooveshark. Or, download a list if you want to have it for keeps - here's a great Bollywood Top 100 songs.
Dancing: Get your guests up on the dance floor and teach them to do a routine, like Jai Ho from Slumdog Millionaire... if they haven't seen it, they'll have heard the song at least. Check out this video instruction on YouTube.
Musical Chairs: Play a round of Musical Chairs with a flamboyant Bollywood song.
INSPIRATION:
Check out the trailer for this upcoming Bollywood film... Look's like the Indian equivalent of Van Wilder:
Need more costume ideas?
Check out CostumeBox.com.au: